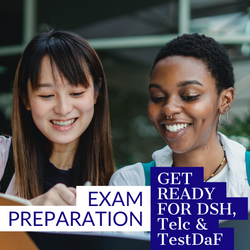 Evolanguage-Shop
DSH, TestDaF, Telc PREPARATION
Efficient Language Exam Preparation for Your Success
EVOLANGUAGE schools offer top-tier German language training aimed at rapidly enhancing your language skills. Our exam preparation courses are meticulously designed to equip you with the strategies for success. Select the ideal course for your needs.
EXAM PREPARATION FOR A1-C2 CEFR / DSH / TestDaF / telc
Monday-Friday 9.00-12.00 CET
Course duration = 4 weeks
Course start: Mondays
Class size: ⌀ 8-12 participants
Course material: 30€ per Level
4 weeks = 80 units 
📆 If you want to register for one of our courses please ask us for the start date. 

Get prepared for your Exam and success in Germany with EVOLANGUAGE.
20 Years of Teaching experience.
Best Price for 1 Level CEFR. 
The EVOLANGUAGE Rapid Immerse Method. 
Student-centered classes. 
Save Time. 
34.000 satisfied students.
Check More: GERMAN LANGUAGE EXAMS