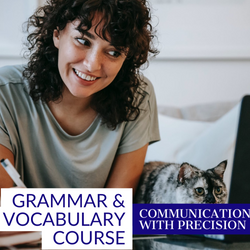 Evolanguage-Shop
GERMAN GRAMMAR & VOCABULARY COURSE
Sound fluent, confident and comfortable with the German language - Advance your career skills.
Good grammar is essential for effective communication.
Expand your German vocabulary and improve your pronunciation & grammar skills in context. Develop finally your communication skills which will be essential for your personal and career advancement.

Interact with your German teacher in Online group classes - meet other students with the same goals as you!

This TraIning will help you improve your writing skills and guide you to write meaningful and coherent sentences. You will learn how to link word reasons and results, add, organize, and summarize the concept or idea quickly. You will be able to connect words and contrast ideas, and write sentences in present perfect or present continuous form.

The course it is a convenient, fun and flexible way to build the solid foundation you need to communicate accurately and creatively.
▶︎

 

GERMAN VOCABULARY, PRONUNCIATION & GRAMMAR COURSE ONLINE8 weeks - Tuesdays 19.30-20.30 CET (Berlin Time) -

149

€ - NOW: 99 €
100% teacher-led course

Course duration: 12 weeks
Tuesdays: 18.30-20.30
Course start: Mondays
Course material: included

From Level B1
📆 If you want to register for one of our courses please ask us for the start date. 

Teacher-led & participant-centered language training - for work & everyday life.
Check More: Live German Courses