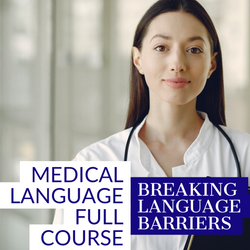 Evolanguage-Shop
GENERAL & MEDICAL GERMAN – FSP & APPROBATION - INTENSIVE COURSE
This intensive course is designed for doctors, medical students & other medical professionals who need to use German in their work. You will study German in situations based on general medical practice and hospital procedures. 
You will learn medical situations, practice specialist vocabulary and get a review of grammatical structures, as well as an overview of the German National Health Service.
The Lesson materials are based on German for Medicine course books & custom made resources.
MEDICAL GERMAN A1-C1 & FSP PREPARATION
Monday-Friday: General German 9.00-12.00 + Medical German 13.00-16.00
Class size: 8-12 participants
Course start: Mondays
Course material included
Valid for visa applications
ℹ️ If you want to register for one of our courses please choose your level and the starting date in the calendar.
Check More: Live German Courses