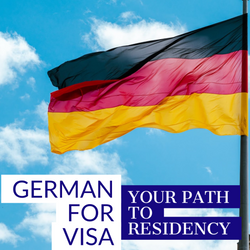 Evolanguage-Shop
GERMAN FOR VISA: from 3 months
Learn German with Confidence - The German Language Program with Visa Support.
The visa or residence permit for language acquisition is issued for the duration of the language course, spanning a period of 3 to 12 months, and requires a minimum commitment of 18 lessons per week.
Read more about
VISA requirements for Germany
HERE
.
Our PREMIUM Intensive German Course is in high demand, featuring 20 lessons per week and is internationally recognized for visa application purposes
FOR ALL LEVELS A1-C2 CEFR 
Monday-Friday 9.00-12.00
Valid for visa applications
Course material: 80 units +30€ per Level
Course start: Mondays
4 weeks = 80 units - 1 whole LEVEL CEFR
📆 If you want to register for one of our courses please ask us for the start date. 
Get prepared for university, for job, life and success in Germany with EVOLANGUAGE. Study with a prior language course - get the information here.
20 Years of Teaching experience.
Best Price for 1 Level CEFR. 
The EVOLANGUAGE Rapid Immerse Method. 
Student-centered classes. 
Save Time. 
34.000 satisfied students.