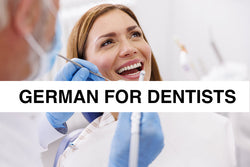 Evolanguage-Shop
GERMAN FOR DENTISTRY ONLINE
IMPROVE YOUR MEDICAL GERMAN - GET PREPARED FOR THE DENTIS LANGUAGE EXAM 
Preparation course for the professional language exam (FSP) for dentists.
This course will prepare foreign dentists comprehensively for the Dental Language Test C1 to obtain the German medical license (Approbation) as well as for the medical working life.
FOCUS ON REAL LANGUAGE AND JOB SKILLS
Class activities are based around real case scenarios that you will have to deal with in your professional dentist life. Build Dentist language terminology, listening & speaking skills required to communicate effectively while providing medical care. The objective is to help students learn relevant vocabulary, phrases and expressions as well as improve their general German such as grammar, speaking, listening comprehension and writing using materials such as dialogues, authentic texts and grammar exercises. During the lessons, the main focus will be on activating speaking skills and encouraging participants to communicate in German.
DENTIST LANGUAGE & FSP PREPARATION - ONLINE
100% teacher-led course
Course start: Mondays
Monday to Friday: 12:30 - 14:00
Course material: included
From Level B2
FULL PROGRAMM: 8 weeks – 80 units 


ℹ️ If you want to register for one of our courses please choose your level and the starting date in the calendar.
Check More: Live German Courses